One hot day in late July in the airport "Boryspil" the five desperate adventurers finally met: young pharmacist Ilia and his assistant Maryna, who specializes on rehabilitation – both from Luhansk; a blind programmer Sergiy and two students of  "University Ukraine" – the future journalist Viktoria and her assistant, Ivan, an economist. They all knew they were about to have two flights, overcoming time and climatic zones and language barriers – all of that in order to set their feet on the land of Norway, a region of beautiful fjords and trolls.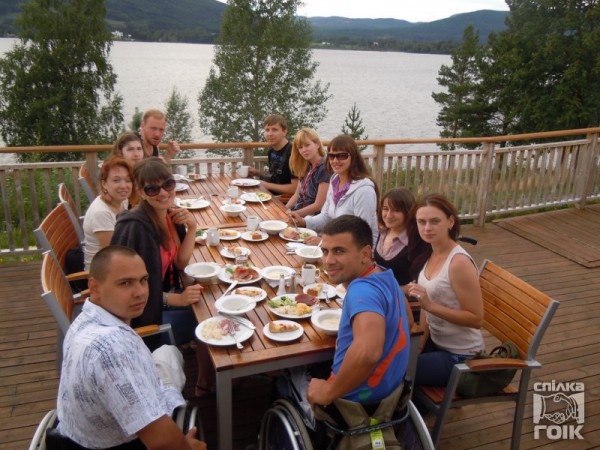 But even the highest expectations were not as vivid as reality, which was prepared for them by Handicamp-2012 – an international biannual camp for persons with disabilities, supported by the Norwegian Rotary-club. A picturesque camping Haraldvangen on the shore of Hurdal Lake has gathered 120 people from different countries: Ukraine, Russia, Lithuania, Israel, Austria, Germany, Britain, Finland, Sweden, Norway, Belgium, Netherlands, Denmark, Argentina and Australia. Among them – 97 members and accompanying people and 23 so-called "leaders" who were responsible for recreational activities and overall safety. We met there six more Ukrainians – four girls from the Crimea (Julia, Valeria, Alexandra and Tatiana, who is a member of the Yalta Rotaract Club) and a couple in love from Donetsk, Maxim and Alexandra. They were called the most romantic people of the camp as Max has proposed to Alex during the festive carnival night, right in front of all the participants.
People were divided into 14 teams, about 5-7 people each. According to the schedule, every team had to try all the adventures offered: intellectual quest, the game of charades, making carnival costumes by oneself, writing articles for the daily local newspaper, fishing, sailing, flyingfox, carting, visiting a farm (cooking national Norwegian bread on fire, riding a horse, playing with local animals), wheelchair dance and wheelchair football, yoga, waterskiing and riding a tube… There were also two excursions: first one to Oslo, with two-hour fjords walking by boat and a story about this wonderful city, and the second – to the highest in the world ski jumping trampoline and cobalt mines. Incredible views, choral singing in the bus and constant feeling of fairy tale gone real – that's probably the main impression of these trips.
We've learned a lot about Norway. There was a particular Norwegian Day. First, we were shown a documentary of the general geographical information, then another one – about the life of disabled people in this country, then a performance of a musician with national melodies. In the evening, on the pier, we had a surprise… a Viking invasion! Yes, our "leaders" with battle-painted faces, with horned helmets and loud shouts sailed on the real shallop, fought their "troll" enemies, threw them into water (13 degrees – not a joke!)… and some of the participants, too. Then the guests have also interfered into this battle, throwing everyone from the pier, and getting "trophies" – that very horned helmets.
It would be a crime, not to mention the buffet. Mealtime was carried out on schedule and everyone had two hours to choose a dish to taste from all available on a general buffet table in the dining room. But every trip or party on the pier or in the Tipi, a wooden pavilion with a fireplace in the center, – a favorite place for most members, – was accompanied by coffee machines and assortment of tasty little things: cakes, cookies or marshmallows, joyfully fried on the fire by everyone.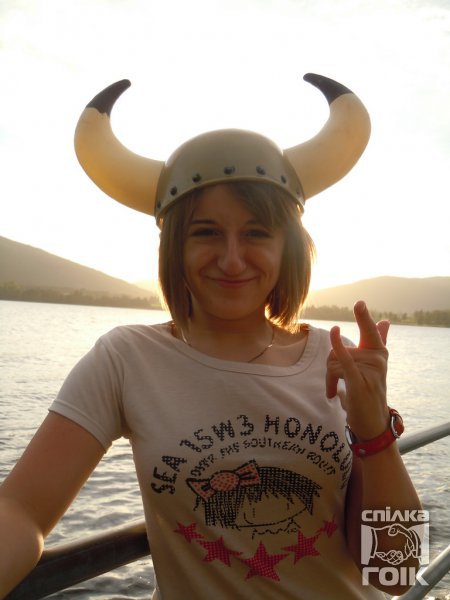 The atmosphere was very friendly, because camp has gathered young and merry people. Of course, geographical and linguistic principle had a great importance: for example, one could see the Germans with the Austrians, and the Russians with the Ukrainians… but by the second week – thanks to a constant rotation of activity partners – things have changed. Those who don't know English – somehow started to communicate with foreigners, who were embarrassed – relaxed and opened their hearts, who had fears – threw them all away and shouted to a carting driver: "Come on, faster!"
We were also active: exchanged with Norwegians the key phrases: "Ya tebe kokhayu" and "Jeg elsker deg", brought to minds of the Argentineans what patronymic is and that it sounds funny with their names (Agosh Umbertivna, for example), that Ukraine is not a Russian province, that in out country the bears don't play balalaika – as well as at our northern neighbors'… The hardest thing was probably to explain why we were shouting: "Bitter!"- to our just engaged couple and what it means.
But time has a nasty feature to run out quickly – and here comes the last evening. Official dinner with the participation of Rotarian organizers, acknowledgments from the participants, souvenirs… After this – farewell disco until the morning: some people dance their favorite songs from the last effort, others don't hide their emotions and cry, hugging new friends whom they'll have to say goodbye the next day, and some make jokes on the first counter, trying to turn the night even more legendary, worth to mention for the next two years… And everyone takes photos, photos, photos – to be able to plunge again into these moments of pure joy, with a single glance on their albums.
The last day has exceeded all expectations again: with all tears spilled collectively, the unleavened Hurdal lake had all chances to become salty. So, let Norway have a little rest before the next invasion! But we will certainly go back, because after this camp life can't be the same…
Special thanks to people who made this fantastic journey real for us: Rotaract Club "Kyiv Center", Rotary Club "Kyiv Center", Rotary Club "Kyiv-Multinational", Rotary Club "Kyiv City", Association of "University Ukraine" alumni, Kiev Municipal League of Public Organizations of People with Disabilities.
[nggallery id=73]