On the 9th of July we were fortunate to visit a concert of Papa Roach – the famous band from California (USA).
It was an unforgettable experience!

"I liked everything: from waiting for the concert till the last chord. A memorable delight!:" – In this way the performance of Papa Roach in Kiev was described by Catherine and Alexandra, the members of the "Ticket to Dream" project. – A sudden, lightning-fast flight of musicians on the stage with the first chords of the hit «Still Swingin '» heated the excited fans. Each of the next song ignited a crazy drive a huge crowd that came that day to listen to their favourite band. Dance floor first exploded, then subsided – it was impossible to just sit on the same place. Rock, drive and positive energy enveloped the audience. The whole concert we sang, danced, fully disengaged!"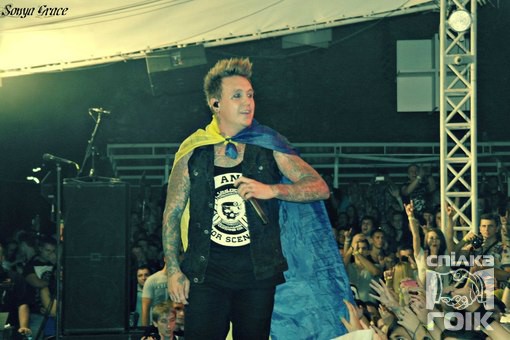 Then – a standing ovation, encore, the last chords of the favorite songs. But we were not in a hurry to leave, because there was only one step to the dream. After the concert we faced a long-awaited meeting with Jacoby Shaddix, the frontman of «Papa Roach».
Behind the scenes. Waiting. Excitement. So many wards to say to a favourite singer!.. And here he is, the idol of thousands of rock fans Jacoby Shaddix, coming to meet us…
Greets: «Hello friends, how are you?»
"We met him with a thunderous applause and cheers, then Jacoby came up to me, hugged and shook my hand. He asked me my name, I replied – Sasha, he uttered my name, it sounded so funny… Asked about how I was and if I liked the concert – I said they have sounded very cool and we all have loved it. It was very exciting to talk to Jacoby, but he was not nervous, so we talked frankly and in a friendly way – the way good friends do it, from the depths of the souls.
Here, for example, Kate has been to the United States. He asked her where she had been, but she could not remember the name of the state.
Then Jacoby asked, "And what did you see there?"
"The Disneyland, the ocean, the San Diego Zoo," – Kate said.
"California! This is my state," – Jacoby said and smiled. – "You have nice associations with California. "
Everyone laughed.
It was time to say goodbye, so we took pictures, hugged and wished bright concerts to the band and expressed our gratitude for the warm welcome to Jacoby and Papa Roach, agreed to meet them at the next concert in Kiev.
Special thanks to: PMK Event Agency and, of course, the «Papa Roach» band for the support of our projects and assist in the creation of a positive image of people with disabilities in society.