On Christmas holidays, Armin van Buuren has visited Kiev with an unforgettable show Armin Only Intense. During this time, I tried to organize thoughts, feelings and emotions that have been raging in my soul, to share unforgettable impressions, about which I can say now that this is one of the best experiences in my life.

Armin van Buuren is an electronic music legend. Four times number one in the main planet's DJ-rating DJ Mag Top-100. The owner of a colossal number of prestigious awards, including several IDMAs and Beatport Music Awards and Officer of the Orange Order, received from the hands of the Queen of the Netherlands. One of the most important persons for the whole history of dance music, the creator and owner of Armada Music, the most famous and highly influential artist agency and dance label in the world. Author of 4 supersuccessful albums and countless hits, which are sang during his sets in every corner of the planet on thousands of dancefloors. The creator of the radio show A State of Trance with 15 million listeners per week and the status of the most popular dance radio show on the planet.
On October 17, at a press conference in Amsterdam, Armin van Buuren announced Kyiv was the first city after the Dutch premiere, which becomes a part of world tour Armin Only Intense 2013-2014.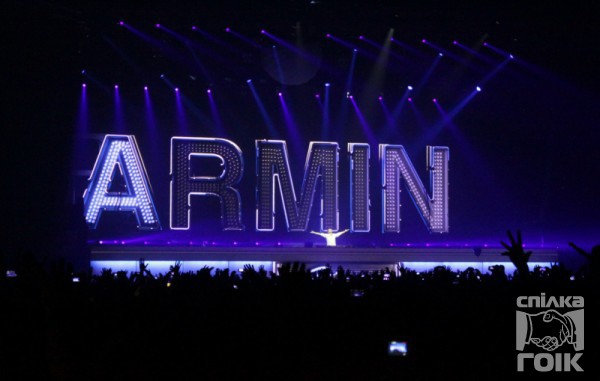 Armin van Buuren returned to Kyiv to make a six-hours-performance to give the same impression and moments that bring together millions of people on all continents.
Center of Kiev Armin Only Intense this year was «The International Exhibition Center». The beginning of the show was scheduled for 21:00.
Armin came on the scene, and then it began not just a show, it was something that you cannot even describe in words, this is what happens when you add a huge talent, inspiration and divine spark. And it's all included with music, lights and entertainment.
From the very beginning of the show, a giant wall of sound (I would call it a pyramid) started to fall on the spectators without delay, waves emanating layer after layer of light from all sides, a simply stunning laser show – and all of this together made a thousand voices merge into one deafening scream: «Armin, Armin, Armin!»
Then there was even more. When the sound has been amplified, the light became weaker, there was a huge shining sphere on the stage. Then some strange laser effects over the stage appeared two hands, and they began raise to this sphere slowly, and the crowd exploded. These were real genuine emotions that 12 000 people in unison vented to the outside.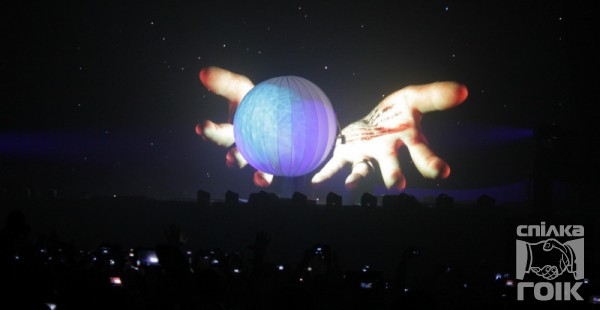 Then I find hard to describe – Armin was everywhere, he penetrated inside, impressed the imagination, made something inside of me pulse. At that time, the wheelchair I move at, ceased to exist, and I felt myself one with the thousands of people who were near and which were united by the music, I felt no limitation, stamps and features.
The show lasted about six hours, and all this time my glance never left the scene. And here I saw the picture, which made my heart beat harder. Over a thousand people, in front of the stage, as if emerged from the ocean, raised a girl in the wheelchair, held on hands of her friends and visitors of the event so that she could feel the whole atmosphere of the show. From afar, she seemed as if floating in a vast ocean of Armin Only Intense. Armin saw her, smiled, giving her an airkiss, then motioned this track sounds for her. Emotions overwhelmed everyone who was around at the moment.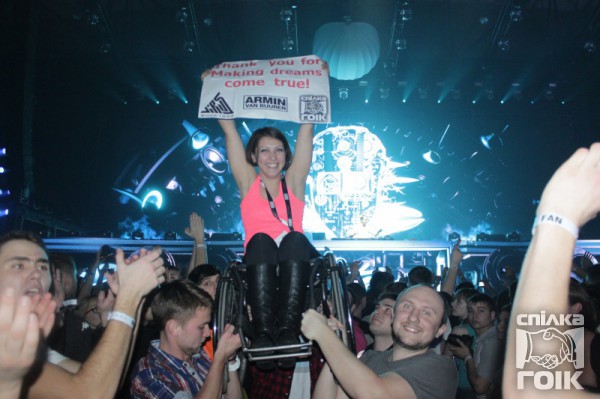 «When I was picked up and raised over 12-thousand dance floor, it took my breath away! I felt like a bird that soars to a boundless ocean of wild drive and positive emotions. And Armin was so close that I could not dream of this!
I raised up a poster with the words of gratitude from all of us, young people with disabilities, who for already not the first year have an opportunity to attend his unforgettable shows! Armin immediately saw me, smiled, and we exchanged air kisses, and then descending from heaven on the dance floor, I dived into the waves of good music, enjoying every moment!» – then shared her impressions Ulyana.
We can say a lot about Armin Only Intense, but it is better to see it once, than hundred of times to hear about it. The one who visited this show will understand me. Personally I would add that Armin van Buuren is one of the greatest musicians of our time, all his shows are so great that they are hard to describe, it is necessary to see and hear!
Special thanks to: VIRUS Music, Kiev Municipal League of Public Organizations of People with Disabilities and personally Armin van Buuren for making our dreams a reality.
Author: Alexander Jeremey – the participant of the project Kiev Municipal League of Public Organizations of People with Disabilities called «A ticket to a dream».