Participants of the project called "A Ticket to Dream" were lucky to feel the powerful energy of Scandinavian rockers The Rasmus, who performed on September 25 in the STEREOPLAZA concert club. Finnish musicians are in Kiev not for the first time: last year they also had a concert in the capital, and then they supported the project of "Kiev Municipal League of Public Organizations of People with Disabilities".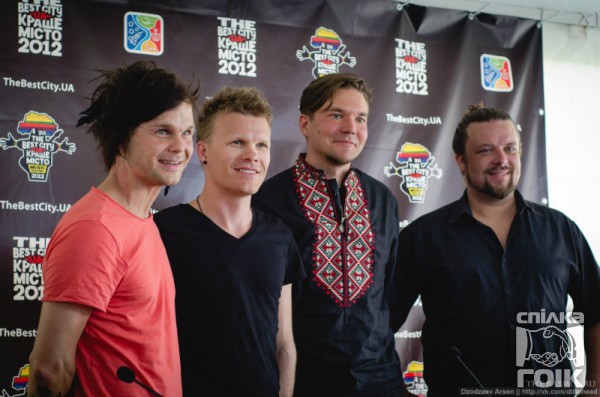 Now our "dreamers" – Alexander and two Victorias – speak:
"We were right above the stage on the second floor. Artists could be seen well, the loudspeakers were near and the sound was great, as we were standing in the VIP-fan zone, the scene could be seen even from a wheelchair, it was not obstructed by the crowd. There were so many spectators – as it's a world-famous band! – and they were all just mad, chanting: "Rasmus, Rasmus!" – but when the vocalist Lauri Ylonen had come to the scene, something incredible happened.
The band started the concert with "the heavy artillery" – the explosive "No Fear", which immediately set the extremely high bar for the concert. Next shots hit right on target, on the hearts of the fans: "Ghost of love", "Time to burn", "I'm a mess", "First day of my life", "Living in a world without you "… Powerful bass guitar riffs and crisp drum rhythms changed into the lyric chords of "Sail Away" and other songs, during which Lauri was not only singing , but also playing the guitar.
The concert was finished with a vibrant, life-affirming "In my life", but the audience could not let their idols without performing some encore songs. And then The Rasmus made an extraordinary surprise for the Ukrainian fans – the bass guitarist Eero Heinonen sang the song "Ukraine", originally performed by Taras Petrychenko… in Ukrainian language! And, of course, the Finns performed several of their hits, including the one that made them world-famous – known by every fan of the band from the first to the last note "In the Shadows".
The Rasmus is quite an amazing contrast of the gothic texts, sometimes heavy music and endless energy, which is particularly evident on their concerts: in the way they jump around the stage, in the way they move, in the passion with which they sing in goodness knows what time their old and new songs… When you see people who are so open to others and love their work so much, it inspires ou for getting to the new heights in your own life! We do not just love their music – it gives us strength to survive everything, from some personal problems to the abnormally cold September… which was definitely warmed by the concert of The Rasmus!"
We are grateful for this breath of courage and inspiration to our partners:
– National Concert Agency
– Concert Club STEREOPLAZA