Quest for overcoming the barriers. Activists demonstrate what obstacles wait for people with special needs, as they go into the city to solve their everyday problems.

Julia Povoroznyk, journalist:
– People with disabilities, social workers, volunteers, representatives of city authorities and public organizations are divided into teams and begin the so-called quest through the streets of the Darnitsa district. Each route has three addresses, where participants check whether a person in a wheelchair can get to the organization or institution. The ramp of the first object – pharmacy – became an obstacle for participants.
– Absolutely does not meet to any building requirements.
How to get to the center of administrative services is impossible to understand. Because there is no ramp or call button. Participant of the quest offers an alternative.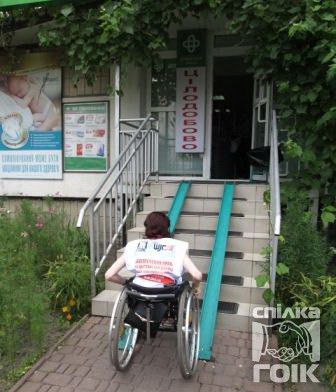 Julia, participant of the action:
– UsuallyI ask for help someone of the passers-by, especially if there's no one to call. Mypolyclinic was inaccessible. If I asked, I got help to move or over the border.
Julia has a congenital fragility of bones. In childhood, the disease allowed her to move freely, but for the last eight years she's in a wheelchair. Says that she often has to ask outsiders for help. Sometimes people offer it themselves. And if walking through the streets independently is more or less possible, getting out of own home, going for shopping or to a hospital or to the public transport is not. Volunteers help to manage with the barriers that arise in the bus.
Eugene, volunteer:
– In the urban transport needі equipment. To get on bus, there is no ramp to pick up passengers. People with disabilities need assistance of the state.
The Department of labour and social protection of population is almost the only place where Julia goes without interference. It's easy to move from room to room of the building, the WC is equipped for people with special needs.
– There is a button for emergency call.
– Can you press?
– Oh, it works!
Such places available in everyday life, according to the words of the participants, are only 10-15 percent of the city. However, people do not lose faith in change and are even kidding.
Alexander, participant of the action:
– Sometimes there are such borders that you sit and look and see: you need to smoke, because without this it's impossible to manage it.
Collaboration and integrated approach to the creation of an accessible environment will help to overcome these problems, as well as the awareness of its importance by all citizens.
Alexander Vorona, President of Kiev Municipal League of Public Organizations of People with Disabilities (SGOIK):
– We have made a step forward, and now we discuss ways of cooperation and the necessary changes with the mayor – where and what to build. To us, representatives of public organizations, turn many people with disabilities…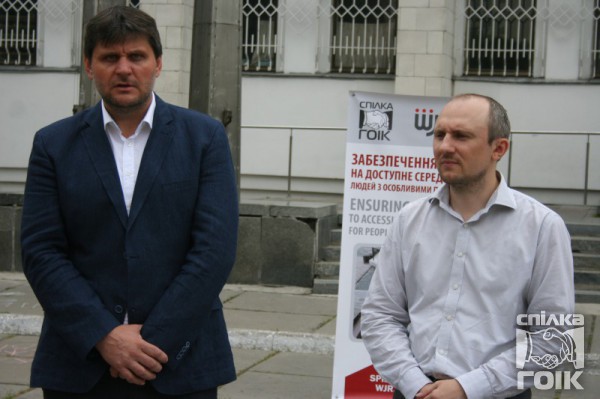 Gennady Sintsov, Chairman of the Darnitsa district state administration:
– The main problem in building of a ramp is absence of financing. Such quests are trying to attract sponsors and investors, which could help as well. Properly constructed ramp up to a height of one meter costs about 30-40 thousand UAH.
In the framework of the project on ensuring accessible environment, the organizers have located about a hundred places in the city. Five are already adapted to the needs of people with disabilities. The organizers are planning to make another eight points of social purpose accessible on the nearest time.
Julia Povoroznyk, Daniel Kossakowski, TV channel "Kiev".
Сюжет на ТРК "Київ":
Сюжет на 5 каналі:
Сюжет на ТРК "Культура":